JAM Roofing is Your Leading Local Roofing Contractor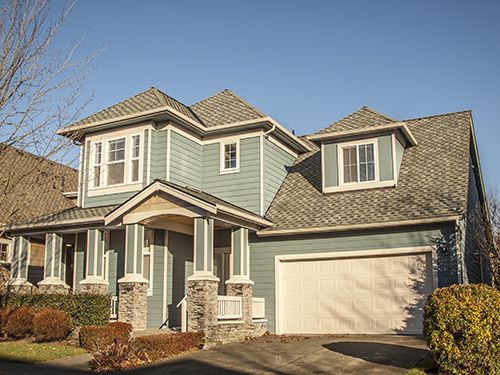 JAM Roofing is a local, family-owned roofing contractor in the Medford OR area. We've been providing dependable roofing services for residences and commercial properties at competitive prices since 1996. Throughout our two decades in business, we have loved working with all of our customers who we are proud to call our friends and neighbors. Our reputation with the local community has been built by our dedication to professionalism and quality.
Here to Serve You
We understand what it takes to install, repair, and maintain roofs in Oregon. Homes and businesses in many areas can benefit from our services. We serve the following areas:
Medford
Central Point
Ashland
Talent
Jacksonville
Eagle Point
Phoenix
Grants Pass
Shady Cove
Rogue River
If your property is located within or near any of those areas, we can provide you with the roofing solutions you need.
Our Services
When you call JAM Roofing for a solution, we respond and deliver with determination and results. We offer roofing, guttering, and other renovations for people who simply want their homes and businesses to function properly. Here is what we provide:
Roof installation
Roof repair
Roof maintenance
Commercial roofing
Residential roofing
Green roofing
Gutters
Sky lights and sun tunnels
Insulation
Windows
We will help you through the entire process, from choosing between various roofing styles to caring for your roof once it's installed.
Why We Stand Out
We differ from our competitors because of the reputation we have built throughout the last two decades. Since our inception we have prioritized professionalism in everything we do. Our work is backed by manufacturer credentials and the people of our community who trust us.
Get a Roofing Estimate
When you trust JAM Roofing to take care of your roofing needs, you can have peace of mind. Call today at (541) 773-7663 or fill out our contact form to request a free estimate of our services.

---
Macie P.
Beautiful Rustic Red Metal Roof in Ashland! Another satisfied customer by JAM ROOFING!
Near
Roca St,
Ashland
,
OR
97520
---
Macie P.
This job was a BIG one. From Solar to whole new GAF TIMBERLINE SHINGLES, COVERED PORCH AS A NEW ADDITION, AND CAN'T FORGET THE DECOTECH SOLAR TO GIVE THIS CUSTOMER A BEAUTIFUL AESTHETIC TO THEIR HOME
Near
Bushnell Way,
Grants Pass
,
OR
97527
---
Macie P.
Check out this sun tunnel we just installed for a Customer in Ashland. Allowing Oregons beautiful natural lighting into this customers home.
Near
Glendower St,
Ashland
,
OR
97520
---
Macie P.
Out on the job in Eagle Point, just installed a new Recycled Rubber, GEM EUROSHIELD roof. Don't let a leaky roof rain on your parade, give us a call to take a look at your Roof today.
Near
OR-140,
Eagle Point
,
OR
97524
---
Macie P.
This customer in Ashland just had a new ASC Metal Roof installed in Rustic Red.
Near
Roca St,
Ashland
,
OR
97520
---
Macie P.
This amazing shot of GAF DecoTech Solar panels on this HDZ Timberline Roof.
Near
Blue Blossom Dr,
Medford
,
OR
97504
---
Macie P.
Out on job site building a new covered porch, in addition to this roof job.
Near
Bushnell Way,
Grants Pass
,
OR
97527
---
Ben D.
We would love to do your next blow in insulation project !
Near
Dean Ave,
Eugene
,
OR
97404
---
Ben D.
When homeowners in the community need help after some significant rain, we answer! Putting a temporary tarp on this geodesic dome today to get the roof through winter!
Near
Charlottes Way,
Eugene
,
OR
97405
---
Ben D.
We are thankful for our customers in Eugene! Another beautiful GAF golden pledge roof installed!
Near
W 27th Ave,
Eugene
,
OR
97405
---
Ben D.
It's hard to beat starting the morning at a beautiful vineyard in the country! Today we are looking at A barn on the property in need of a new metal roof!
Near
McBeth Rd,
Eugene
,
OR
97405
---
Ben D.
In the roofing world all structures can present a different challenge, today we are looking at one of the Willamette valleys many dome houses! What a cool property and home owners!
Near
Charlottes Way,
Eugene
,
OR
97405
---
Ben D.
We love the community of Eugene and the opportunities our customer give us on a day to day! Today we are looking at a beautiful home and talking about moss cleaning and preventative maintenance to ensure this roof last for years to come!
Near
Highland Oaks Dr,
Eugene
,
OR
97405
---
Ben D.
After a project like this it is easy to feel like our guys can do anything! This GAF golden pledge roof is for Kindercare off Coburg in Eugene. Our guys hustled and roofed this building only on weekends to make sure we could ensure the kids were safe during the project. No more leaks from the old roof for this fantastic customer!
Near
Oakmont Way,
Eugene
,
OR
97401
---
Ben D.
Today we are in downtown Eugene taking a look at some historic homes in need of a new GAF or PABCO roofs!
Near
W 11th Ave,
Eugene
,
OR
97401
---
Ben D.
Tile can be a life time roof but only when take a care of! Call JAM Roofing for all your maintenance and repair needs. This service call is a beautiful condo overlooking Emerald Valley Golf Club in Creswell, Oregon
Near
Magnolia Dr,
Creswell
,
OR
97426
---
Ben D.
Eugene is home to many beautiful houses! Today we have the opportunity to take a look at the roof of a home that is in the process of a interior remodel as well! GAF and PABCO to the rescue to replace this old shake roof!
Near
Queens E St,
Eugene
,
OR
97401
---
Ben D.
After a few micro storms in Eugene roofs can take a beating. JAM Roofing is here to help when our customers needs us !
Near
Russet Dr,
Eugene
,
OR
97401
---
Ben D.
JAM Roofing can do it all! Call us for roof cleaning and roof maintenance!
Near
Rombauer Rd,
Eugene
,
OR
97402
---
Ben D.
Another GAF and PABCO estimate for a local landlord in Eugene
Near
Norman Ave,
Eugene
,
OR
97404